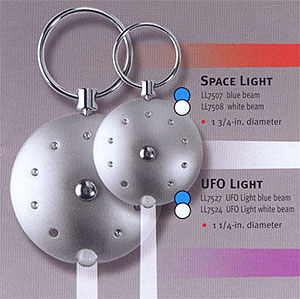 Space Light
1-3/4" Diameter
Model # 7507
Space Light - Blue Beam Retail: $19.00 | Our Discount Price: $11.00

Sold Out - Discontinued Item

Coast puts the power of opto-electronic technology in the palm of your hand.
Features:
• Blue or White Beam choices.
• Metal box packaging.
• 100 hours of light without a battery change.
• Easy on/off micro-switch.
• Durable, anodized metal case.
• 1-3/4" diameter.
• Colding burning, up to 10 times as bright as conventional flashlights.
• Shock proof and water-resistant.
• Batteries are included. Batteries included/ (2)CR1620 Lithium/3V.
• Replacement batteries can be found at any Photo shop, Wal-Mart or Jeweler.

Customer Service E-Mail: Click to E-Mail Us
Customer Service Telephone Hours: Monday-Friday 9am - 5pm PST (12pm - 8pm EST)
Home - About Us - Contact Us - Policies - Shipping Info - International Orders - FAQ's
Shirts & Jackets - Pants/Trousers - Gear & Accessories - Covers/Hats - Coast Cutlery LED Lights - Guitar Equipment - Levi's/Denim
Military Links - USMC Digital MARPAT Uniform Information

---
Entire web site content copyright © 2010 Military Gear HQ / OverDrive Custom Guitar Works.
None of the photographs appearing on Military Gear HQ or OverDrive Custom Guitar Works are in the public domain.
No unauthorized usage without written consent.
Prices are subject to change.
All orders are subject to product availability.
Military Gear HQ / OverDrive Custom Guitar Works reserves the right to cancel any order.